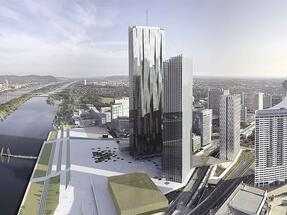 The real estate editorial team in an interview with Wolfdieter Jarisch, shareholder and member of the executive board of the S + B Group.
Jarisch: It was already rumored in advance, but it was the last signature under the contract. The DC 3 was sold to the company Greystar, which has acquired the project together with the Partners Group. This is the largest property since the existence of our company, which we have owned and sold as sole owners in the portfolio.
That is, the sale of the DC 3 is the biggest deal S + B?
Jarisch: Yes. It's the largest real estate transaction we've ever done in the company's history. The DC 3 is a 110-meter-high tower with 34 floors, and will house around 900 apartments. We have developed the project, a valid building permit, and we have already started the preparatory work. In the next few months we will start with the civil engineering works. For mid-2021 the completion is planned.
Can you say something about the investor?
Jarisch: Greystar was founded in 1993 by American Bob Faith. It is a large American corporation that operates and rents student residences, retirement homes and commercial apartments throughout the world. In Austria, the DC 3 was the first project that Greystar bought - in this case together with the Partners Group.
How many potential buyers or prospects were there for the DC 3?
Jarisch: The interest was in principle enormously high and we had talks with a handful of investors. Just over a year ago, a pre-contract was signed with Greystar and from then on we agreed on the details. The building is also built by us - or by the company i + R Bau GmbH.
How much will the apartments be let?
Jarisch: The market is the same everywhere and so I think that the rent will be monthly from 750 euros - including all costs.
Who else should be addressed?
Jarisch: The UN City and Conference Centers are also markets that can be served. On the part of the UN, there is great interest, and we have already asked for a cooperation with us. But that will negotiate Greystar as operator directly. This has nothing to do with us. But I think that Greystar will be very flexible here and that it will be organized according to need.
What is special about the DC Tower 3?
Jarisch: He is one of the three highest student houses in Europe, and a great peculiarity is that each room has a triangular facade element. This pops out of the inner shell, and there is a bench. This means that every resident has to learn, listen to music, enjoy or relax his own windowsill with a fantastic view. And another thing: 1,000 new residents can only be good, because they bring more life into the Donaucity.
(Source: www.immobilien-redaktion.at Walter Senk)