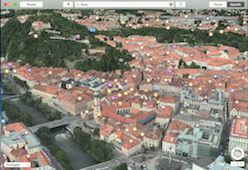 Even before the Austrian capital Vienna, Apple got the map of Graz a 3D layover. This offers real estate seekers the possibility to explore the city, its buildings and the surroundings of your possible further office in advance on an iPhone, iPad or Mac.

Surely there are already similar offers by providers such as Google Earth. But Apple offers the latest pictures, which were made in the course of the last six months and thus provides the latest insight into the Styrian capital.

Some errors in the detail view and partly simplified graphics - probably due to the data size - hardly distrub when exploring the city.
Other Austrian cities are to follow - the promise of a meaningful impression of the location around your future dream office!