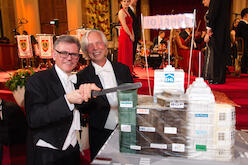 Beim diesjährigen Immobilienball war alles neu – passend zum 10-jährigen Jubiläum feierte die Bau- und Immobilienwirtschaft in der ausgebuchten Wiener Hofburg das Branchenhighlight des Jahres. Fast 3.000 Gäste unterstützen mit insgesamt 25.000 Euro das wohltätige Projekt "Casa Alianza Nicaragua".
(Wien, 14.02.2015) Vergangenen Freitag öffnete die Wiener Hofburg ihre Tore für den 10. Ball der Bau und Immobilienwirtschaft. Die zahlreichen Gäste erlebten eine rauschende Ballnacht, die unter anderem durch ein Highlight mit Casino-Flair bestach, passend zum Freitag den 13. Von einer Whiskey-Lounge mit erlesenen Whiskeysorten, über eine Cosmopolitan-Lounge mit Fußmasseuren und Stylisten, bot der diesjährige Immobilienball alles, was das Herz begehrt. Der Vollblut-Entertainer Mat Schuh brachte auch dieses Jahr wieder die Tanzfläche zum Glühen und sorgte neben Wolfgang Dorer ́s Jazztett, der Sunshine Band und vielen mehr für ausgelassene Stimmung.

Netzwerken, Tanzen, Spenden in der Wiener Hofburg
Zur Begrüßung hieß Veranstalter Reinhard Einwaller alle Jubiläums-Gäste herzlich willkommen. Ganz besonders begrüßte er Vertreter der Politik wie Nationalrätin Brigitte Jank, Nationalrat Andreas Ottenschläger, Bundesrat Reinhard Pisec, Stadtrat Manfred Juraczka und Gemeinderat Norbert Walter. Mit 26 internationalen Gästen, darunter etwa die Präsidenten der CEPI, Claudine Speitz und Manuel Negrano, erfuhr der Ball auch außerhalb Österreichs große Beliebtheit.
Zum Jubiläum präsentierte sich der Ball in neuem Gewand: Der Erlös der Einladungskarten ging dabei zu 100% an das Projekt "Casa Alianza Nicaragua". Rund 22.300 Euro wurden so gesammelt. Erwin Atzmüller von der Raiffeisen Bank Bezirk Baden erhöhte kurzer Hand auf 24.000 und Hermann Rauter, Initiator von Herztraum, legte noch einmal 1.000 Euro drauf wodurch insgesamt 25.000 Euro an Spenden gesammelt wurden.
Ein weiteres Highlight war die überdimensionale Jubiläumstorte in Form einer Skyline, die kurz vor Mitternacht von Reinhard Einwaller, Veranstalter und Geschäftsführer der epmedia Werbeagentur GmbH und Thomas Malloth, Obmann des Fachverbandes der Immobilien- und Vermögenstreuhänder, angeschnitten wurde.
"Bei einem runden Geburtstag dürfen zwei Dinge nicht fehlen. Eine Geburtstagstorte und guter Freund, der ein paar nette Worte über das Geburtstagskind sagt.", betonte Reinhard Einwaller und übergab damit das Wort an seinen langjährigen Freund und treuen Ballbesucher Thomas Malloth. Dieser überreichte feierlich einen Spazierstock an den "Lord of the Immobilienball" - wie er Einwaller nannte - und gratulierte somit zum 10. Geburtstag des Immobilienballs.

Über das Projekt "Casa Alianza Nicaragua"
Bei dem Projekt "Casa Alianza Nicaragua" handelt es sich um direkte, effektive und nachhaltige Hilfe für Opfer von Menschenhandel. Konkret werden umfassende Schutzservices für jugendliche Überlebende von derartigen Verbrechen und Jugendliche, die durch Menschenhandel in Nicaragua gefährdet sind, bereitgestellt.
"Wir freuen uns, im eigenen Berufsfeld wohltätig zu sein und nachhaltig etwas bewirken zu können, das auch eine Branchenrelevanz hat.", so Einwaller. "Wir danken dabei den zahlreichen Unterstützern, die durch Ihre Teilnahme am Ball die Förderung dieses Projekt in solcher Höhe ermöglicht haben."

Projektdetails und weitere Informationen zur Stiftung und zum Charity-Projekt finden Sie hier:
PeopleShare: http://www.peopleshare.eu/projects/7-un-people-share-cooperation
UNODC
United Nations: https://www.unodc.org/unodc/human-trafficking-fund.htm

CASA ALIANZA: http://www.casa-alianza.org/casas/nicaragua

Der Veranstalter, die epmedia Werbeagentur GmbH, bedankt sich bei unseren größten Partnern, die dazu beigetragen haben, diese Ballnacht unvergesslich zu machen: 6 B47 REAL ESTATE INVESTORS AG, BLU Buildings and Land Unique GmbH, Arnold Immobilien GmbH, BOP Immobiliendevelopment GmbH, BUWOG Bauen und Wohnen GmbH, Dr. Jelitzka + Partner Gesellschaft für Immobilienberatung und -verwertung GmbH, EHL Immobilien GmbH, IC Projektentwicklung GmbH, Immofinanz Group, online hausverwaltung & immobilientreuhand Gmbh, Strauss & Partner Development GmbH, T.O.C. Tecno Office Consult / IVAM Immobilienverwaltung & Assetmanagement, TPA Horwath Wirtschaftstreuhand und Steuerberatung GmbH, UniCredit Bank Austria AG, willhaben internet service GmbH & Co KG, Die Presse Media GmbH & Co KG, WKO Wirtschaftskammer Wien, BAR bareal Immobilientreuhand GmbH, Salon Real, Wohnnet Medien GmbH, Immobilien Scout GmbH, ÖVI Österreichischer Verband der Immobilienwirtschaft, Sabo+Mandl & Tomaschek Immobilien GmbH, Immobilien Magazin und immoflash.

Über epmedia:
Als Veranstalter des Immobilienballs, Initiator des Immobilienpreises Cäsar, sowie des erfolgreichen Gipfeltreffens re.comm, aber vor allem auch als kreative Agentur für die Immobilienwirtschaft und starker Partner bei Mediaplanung und -schaltung, wissen wir über die Bedürfnisse und Herausforderungen der Branche Bescheid. Unser Team besteht aus Spezialisten mit den besten Ideen und innovativsten Lösungen für unsere Kunden, ob national oder international. Fazit: Wo immer ein kompetenter Partner für Kommunikations- lösungen im Immobilienbereich gebraucht wird, epmedia ist dafür die erste Adresse!