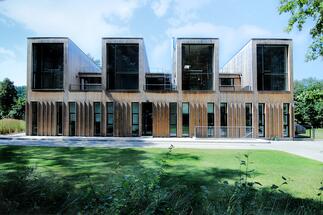 With an investment volume of around 10 million euros, Energie Steiermark is building Austria's most modern training center for "Green Energy". The so-called "e-campus" should already be ready in autumn 2019.
Construction on this major project, for which the Graz architect Markus Pernthaler is responsible, is still in this year. The approximately 3000 square meter building in the Neuholdaugasse in Graz will be equipped with the most modern technology.
"This is the start of the biggest qualification offensive in the history of the company," says spokesman Christian Purrer . "Over the next 15 years, around 30 percent of our employees will retire, so forward-looking human resources development must be proactive in ensuring experience and expertise for our 600,000 customers."
"The success of our company lies in the qualification and motivation of our colleagues to work for a safe and reliable care. They are the key to successfully managing the challenges of the energy transition, "said Chief Executive Officer Martin Graf ." That's why this investment is a clear commitment to sustainable business practices for the Group. In particular, the new technologies in the field of photovoltaics, storage, smart home and smart meter require innovative minds on the pulse of the times. "
The "E-Campus" is being built on the site of the Technik-Zentrum Graz-Süd, where the training workshop of Energie Steiermark has been located since 1956. In the building dating back to 1920, far more than 1,200 young people have been trained to become skilled workers.
"The project puts us in a position to take on about 40 percent more apprentices every year than before. Today, we are training the experts of tomorrow in order to secure the expertise of our team in the long term, "says Graf. The cooperation with other educational institutions and private companies is part of a cross-sectoral strategy to turn young people into "Green Energy Professionals".
There are currently more than 80 young people who receive their specialist training in Energie Steiermark and receive a takeover offer from the state energy company after the final examination.
The new "E-Campus" will also house the central training hub for the entire Group. In total, more than 700 courses, seminars and qualification measures are offered each year for the approximately 1700 employees.
For Deputy Governor Michael Schickhofer - responsible for Energie Steiermark as an investment adviser - the large-scale investment "is another important building block for a modern and strong Styria. The new training center of the Energy Styria is a commitment to the location of Styria, to teaching and to new technologies, "says Schickhofer.
Source : OTS