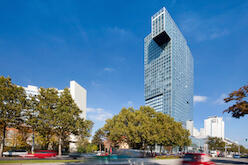 The new offices extend from the 29th to the 34th floor and extend the entire rental space of 10,440 sqm. "The IZD Tower is an excellent location for us. This is what the last 14 years there have shown. The good transport links, ample parking, excellent infrastructure in the countryside and the varied recreational facilities, including immediately adjacent recreational areas make the IZD Tower so attractive," says Helmut Maukner, Country Managing Partner of EY Austria, some reasons for the extension of the contract to.

As the owner of representatives of the IZD Towers Heinz Redl is glad about the successful extension: "EY is a real global player in its industry, and we are pride to continue to accomodate a company of this stature and to ensure that the staff and workers can enjoy a perfect working environment." The energy-pass value of 24 kWh/(m2*a), which provides the most sustained lowest operating costs of Vienna, is despite the perfect Asset Management and the ideal location an important reason for choosing the offices in the IZD Tower.

The IZD Tower, Austria's first "US LEED EBOM GOLD"-certified building, is located in the center of Vienna and offeres 63,520 m2 of flexible office space, ideal service dimensions and an excellent environment.
Source: http://www.ots.at/presseaussendung/OTS_20150226_OTS0026/ey-bestaetigt-standort-und-verlaengert-an-wiener-top-adresse-bild
Picture Credits: IZD/Nikolay Kazakov