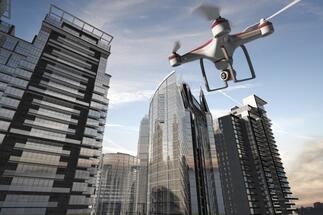 Drones cut this long way short: they are available to almost anyone in almost no delay. You can now buy ready-to-use kits, with built-in cameras or attachable equipment – for less "amateur" results. Beware though! Use of drones, also known as UAVs (unmanned aerial vehicles) or RPAs (remote piloted aircrafts) are submitted to a bunch of regulations, in terms of use in certain public spaces, certain altitudes and conditions. Those regulations depend of the country you operate them in, but here you can find some general helpful tips about handling drones.
Using drones for real estate marketing
Maybe the most common use of drones in commercial real estate is for marketing purpose. The photographic or video presentations have never looked better!
Equipped with a pro flying camera, drones could help you build a breath-taking marketing portfolio for your property. Dramatic zooming, strong aerial views, comprehensive panoramas and 360 degrees indoor and outdoor professional HD videos that will make everything else look poor.
Drones will help both sellers and potential tenants or buyers with the next generation of digital presentation for real estate properties. As it is already a habit to start any search online, sellers will benefit from a vivid presentation helping them to step out of the crowd.
On the other hand, those prospecting the market are busy, distances are longer and longer, we spend a lot of time in traffic, so a powerful drone material could be a key factor in visiting, shortlisting, or even renting or buying a property!
Mapping – drones for future landlords
Prospecting lands for future development could be a very difficult task. The right plot for the right project is the beautiful dream of any real estate developer. But in practice, you'll always find obstacles. Sometimes, great location does not mean automatically the best suited terrain for construction or access routes or existing construction raise development costs.
Putting aside the visual effects of a drone taking powerful marketing shots, drones proved to be very efficient as tools for mapping land, as it helps the developer to configure the plot in order to accommodate construction. A number of softs designed for drone technology could overcome lots of difficulties of the classical geo studies, or just make the land evaluation less expensive and quicker. Mapping a plot for its particularities, such as area, heights and other dimensions could be done with the use of proper equipment attached to the drone camera.
Drone property inspections for asset managers
For less than 1,500 EUR, a drone with live video, advanced flight control software and a flight controller could be used by commercial property owners or managers who wish to make easier their property inspections. It is a relatively small investment giving access to a set of features helping in tasks otherwise time consuming or even dangerous.
Real-time access to a property has never been easier: managers are now able to keep track of the technical maintenance and detect eventual problems, to overview security, landscaping and even cleaning! Drones are a powerful tool for a property manager, giving access to both inspection and evidence of the building.
Image: Google