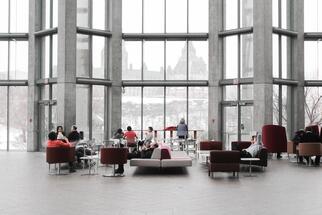 Beinahe wäre We Work in Wien schon aufgeschlagen: Die IG Immobilien verhandelte mit dem US-amerikanischen Coworkingriesen über eine komplette Anmietung des Bauteils C des Prater Glacis, bei dem kürzlich der Spatenstich begangen wurde (DER STANDARD berichtete). Die Gespräche haben sich dann aber zerschlagen, We Work sucht weiter nach einem ersten Standort in Wien.
Viermal Spaces
Andere Anbieter sind da schneller: Die Regus-Marke Spaces hat sich kürzlich sowohl im Square One in der Muthgasse auf 7.900 Quadratmeter eingemietet als auch im "Haus am Schottentor" auf 8.700 Quadratmeter. Der erste Wiener Standort wurde erst im Juni im Orbi Tower eröffnet, der zweite wird Anfang 2019 im The Icon beim Hauptbahnhof aufsperren (siehe dazu auch Artikel). Und noch davor, nämlich Anfang Dezember, wird auch der erste Wiener Talent-Garden-Standort in der Liechtensteinstraße im neunten Bezirk seine Tore öffnen.
Und es wird noch nicht alles gewesen sein. Alexander Fenzl, Büromarktexperte bei Otto Immobilien, rief zu Jahresbeginn ein "Jahr der Coworker" aus und erwartet noch ein paar weitere Abschlüsse für Coworkingflächen bzw. Officecenter, die Büroflächen für kleine Unternehmen anbieten. Auch bei CBRE registriert man eine stetig steigende Nachfrage: Im dritten Quartal betrafen 18 Prozent der Vermietungsleistung servicierte Büros, im ersten Halbjahr waren es 15 Prozent.
Mehr Fertigstellungen als Vermietungen
Insgesamt dürften heuer nach Schätzung von Otto Immobilien 230.000 Quadratmeter an modernen Büroflächen neu vermietet werden; prognostiziert hatte man im Frühjahr nur 190.000. Schon die ersten drei Quartale lagen mit 131.000 Quadratmetern deutlich über dem schwachen Vorjahr. Im vierten Quartal dürften es somit rund 100.000 Quadratmeter sein, für das ganze Jahr 2019 rechnet man bei Otto Immobilien mit rund 180.000 Quadratmetern Vermietungsleistung. Die Fertigstellungen liegen sowohl 2018 als auch 2019 teilweise deutlich über der prognostizierten Vermietungsleistung: Otto und EHL gehen von etwas mehr als 250.000 Quadratmetern an neuen Flächen 2018 aus, CBRE kommt sogar auf 270.000 Quadratmeter. Das allermeiste davon wird erst im laufenden vierten Quartal fertig. 2019 wird das Fertigstellungsvolumen wieder stark zurückfallen, auf nur noch rund 40.000 Quadratmeter. 2020 werden dann von Otto-Experten Fenzl aber wieder 135.000 Quadratmeter erwartet, "von denen sich mehr als 100.000 Quadratmeter bereits in Bau befinden und somit sicher realisiert werden".
70 Prozent vorvermietet
Was heuer fertiggestellt wird, ist zu 70 Prozent vorvermietet. Stefan Wernhart, Büromarktexperte bei EHL, führt das einerseits auf die gute Konjunktur, andererseits auf einen gewissen Nachholbedarf aus den Vorjahren zurück, in denen die Neubauleistung niedriger ausfiel als die Vermietungsleistung.
Größte Vermietung des bisherigen Jahres war der vor wenigen Tagen bekanntgegebene Einzug der Volksbank Wien im CA-Immo-Bestandsgebäude in der Haidingergasse im dritten Bezirk. Die Bank wird Ende 2019 rund 14.000 Quadratmeter beziehen. Dahinter liegen die beiden Vorvermietungen des Austro Tower in Erdberg (siehe Bild), nämlich an die Austro Control mit 12.700 und an die Asfinag mit 9.400 Quadratmetern. Bis zum Einzug dauert es hier aber noch.
Projekt "ViE" der CA Immo wird bezogen
Größere, kurzfristig vermietbare Flächen gibt es laut Fenzl derzeit in nur fünf Projekten: The Icon, Austria Campus, Square Plus, Inno Plaza und ViE. Letztgenanntes ist der Neubau der CA Immo direkt neben dem erwähnten Bestandsgebäude in der Haidingergasse. Es ist grundsätzlich fertig und beziehbar, kleinere Arbeiten in der Lobby – wo etwa noch ein Café eingerichtet wird – werden aber noch erledigt.
Es bietet rund 13.800 Quadratmeter vermietbarer Fläche, und langsam zieht Leben ein: Der erste Mieter, das Marktforschungsunternehmen GfK, bezog Anfang September mit 155 Mitarbeitern 2.300 Quadratmeter in der dritten und vierten Etage. Ende März wird mit der JTI Austria GmbH der zweite Mieter einziehen, das Tabakunternehmen belegt ab Ende März 2.700 Quadratmeter auf drei Stockwerken.
Mieten stabil bis steigend
Die Mietpreise in Wien entwickeln sich stabil bis leicht steigend. Die Spitzenmiete in der Innenstadt liegt weiterhin bei 25,75 Euro netto pro Quadratmeter und Monat, die Durchschnittsmiete für moderne Büroflächen (Angebotsmiete von aktuell verfügbaren Flächen) zog laut EHL zuletzt von 14,40 auf 14,80 Euro an. Vom aktuellen Marktaufschwung würden deshalb auch Bestandsimmobilien in durchschnittlichen Lagen profitieren, analysiert man bei EHL.
(Artikel von MARTIN PUTSCHÖGL, source: derstandard)