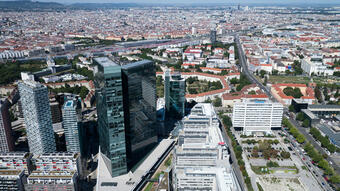 Wienerberg is no ordinary office location - the working day was completely rethought and the wishes of companies and their employees involved in the development. Where you feel comfortable, you just prefer to work. In addition to the ambience and the numerous recreational opportunities all around you enjoy as a tenant of offices on Wienerberg free of charge and all the benefits of myhive, the international office concept of IMMOFINANZ. It offers a wide range of on-site services and services that make every day business life easier - from the conference center to bike and fitness rooms with showers and laundry services. myhive also stands for community and networking: Regular in-house afterwork, sports events and lectures as well as a dedicated community manager create networking events right in front of the office door and provide variety in everyday life.
Office properties with diversity: the Twin Towers. Rethought work routine.
In an excellent location, a completely new office concept was created - breathtaking views including: the Twin Towers in Vienna. They combine a pleasant atmosphere with numerous advantages for tenants, which make the work more beautiful. All amenities for a smooth business life are available as well as enough space for communicative exchange - the best conditions for good ideas and a lot of motivation. Office real estate with variety: from the combination office to open spaces. Areas of 200 m² - 6,300 m²
An office building as agile as modern working. Wienerbergstrasse 7 - 9 - Individual, stylish, pleasant. Your new dream office.
Located in the first row, directly at the recreational area Wienerberg, this office building offers everything you need for relaxed and efficient work. Best technical equipment, room heights over 3 meters, shops, restaurants and many other services make tenants and employees happy here. Individually designed office space with excellent connection. Areas of 150 m² - 10,000 m²
More quality of life: organizing everyday life made easy.
t's not just commuters who know that being on the move means spending precious time for work, family, friends, leisure and losing yourself. What would you do if you were given an hour a day for free? With an office on the Wienerberg you can choose it! While your children are well looked after, you can actively relax during your lunch break with the numerous sports facilities available. Short to the barber or laundry in walking distance, in the supermarket quickly do the shopping is a daily luxury for you, which increases the quality of life enormously.
Kindergarten and hoard in the house
Recreation area including golf course in front of the door
Garage with 2,000 parking spaces and e-car charging stations
Connection to main traffic arteries and many parking lots are particularly beneficial for distribution companies
car2go and public transport for easy mobility
Free myhive services
Optimal local supply with numerous shops and restaurants
Excellent connections on the Wienerberg
The location on Wienerberg is located in the south of Vienna. International as well as Austrian companies appreciate the top location and the excellent infrastructure. It is one of the largest office and business locations in the city with the best connections to the city, airport, motorway and the public transport network.
Tenants are always informed about the current public connections via a departure monitor at the location.
The myhive site on Wienerberg combines everything you need for a well-balanced work-life balance: an office, shopping, entertainment and recreational center. The balanced mix, along with numerous services, provides an optimal work and leisure environment, making it easier to reconcile your to-do's and rest. Whether for start-ups or established companies - the Wienerberg is the optimal office building with space for development and promotes inspiration, communication, cooperation and innovation.
(Source: https://amwienerberg.com/)