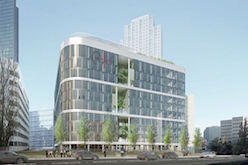 Office real estate:
e+, Paris-La Défense (France)
Presented by Sogeprom

e+ will be delivered at the end of 2016 and will include 14,200 sq m of new generation offices across nine storeys, 200 parking spaces of which 30 will be for electric vehicles and a garden cafeteria. The floorplates will be at least 1,200 sq m and the building's environmental performance is expected to qualify it for HQE 'Excellent', BREEAM 'Very Good' and BBC 'Effinergie Renovation' certifications.

Residential real estate:
Tuletornen, Stockholm (Sweden)
Presented by City of Stockholm

Tuletornen features two 16-storey blocks containing a total of 180 apartments with 10 metres long balconies. Combining concrete, glass and aluminium, the façades showcase an exciting fusion of Gaudi's modernist, organic forms and the Scandinavian preference for function and simplicity. The development's ground floors have been designed and equipped for commercial use.        

Hotel & tourism real estate:
Sofitel Frankfurt Opera (Germany)
Presented by Accor

Sofitel Frankfurt Opera will have 150 rooms, a gastronomic restaurant, meeting rooms, a spa, a parking and shops. The 10 000-sq m Sofitel hotel is part of a multi-function complex which includes 20 000 sq m of offices, being developed by Cells Bau. The building is situated in the middle of Frankfurt, directly next to the central business district, in one of the most beautiful parts of the city. The hotel is scheduled to open in 2017.        

Retail real estate:
Tsawwassen Mills, Delta (Canada)
Presented by Ivanhoé Cambridge

Located at Highway 17 and 52nd Street, Tsawwassen Mills will include approximately 111,500 sq m of retail, with 16 anchors, a unique mix of premium fashion brands, factory outlets, restaurants and first-to-market retailers, as well as a 1,100-seat food court. The development will be modelled on the successful Crossiron Mills and Vaughan Mills in the Greater Calgary and Greater Toronto areas.
See more at: http://www.mipim.com/