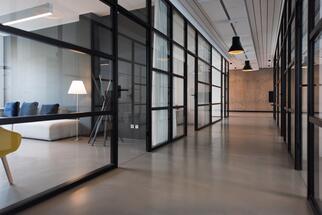 What does the working world of the future look like? How and, above all, where will people work in the future? Many people ask themselves these questions and there are many answers to them, but none that apply to all. Especially when it comes to office workplaces, so-called flagship projects such as Google or Microsoft come into play. But these are not a panacea. "It's not about general concepts, but about special concepts," says Markus Wiesner, Managing Director of the Upper Austrian office furniture manufacturer Wiesner-Hager, "but it's also about new communication techniques or the attitudes of the younger generation right. "
Planning your office building ahead of time Especially the communication techniques are a special challenge.
"That changes every five years," Wiesner knows. Just by the availability of Wi-Fi you could work wherever you want. "This also brings with it behavioral changes of the boys, the so-called high potentials." To recognize this is particularly important if you invest in an office building today. "That should be fit for everyday work in ten years' time."
New room structures in office buildings But what about the spatial structures in a modern office building?
"We are now talking about classic administrative workplaces," explains Wiesner, "because there is an increasing need for communication - there are many more points where employees talk to each other, that can be the coffee house, but also a creative room or a classic meeting room." That means open spatial structures? "We are very careful because there are enough ways to separate zones without sacrificing flexibility," says the expert. "The open space is often massively exaggerated, which often only discusses acoustics and climate." It is more important to create areas where you feel you belong. An example in Vienna shows that one can be very open, but there are "Silent Rooms" inside. Experiences from other countries show that the main problem usually lies elsewhere. For example, an employee in the morning does not know if he has a job at all on this day. "It can happen that people have to go home to work from home in their home office," explains Wiesner from practice. The office of the future may well be an open space, perhaps with an emotionally charged interior design style. Wiesner: "But especially at the Open Space, there needs to be a special retreat for concentrated work and, in addition, highly developed communication spaces."
Thanks to digitization - "paperless office" For decades, a concept haunts the world of futurologists, the "paperless office".
It was often announced but never a reality. But Wiesner recognizes a change at the moment: "We see very strongly that storage space is being cut down massively in the planning." The "paperless office" is in a radical form illusory, but "you can see no more folder walls today." As a rule, 1.60 meter wide boxes with three file heights are enough for one employee. "When digitizing, running meters fall away," says the Wiesner-Hager managing director in a nutshell. "Only contracts or the like are filed today for protection in folders."
The flexibilization replaces the fixed workstation
What the office sector has to face is the fact that fewer and fewer nine-to-five jobs are available. Part-time solutions, paternity leave, all these changes are going on slowly. "Flexibility is also increasing, so it takes you two hours to get things done, but you're at other times or working from somewhere else." There are many projects where the bill "One employee = one job" does not work anymore. Especially in sales that has long stopped. But that also depends a lot on the respective industry, "here the eye size is very important for the office planner". Otherwise there would be solutions that look great on the green table, but do not prove themselves in practice.
Emotionalization in the office
Also, the leadership behavior is changing, today more than ever own responsibility is announced and no command issue at the boss more. The question of the working environment then turns out differently. "Whether a hammock in the office is the right thing to do, you have to answer on a case-by-case basis, but it certainly radiates the right thing." One thing is certain: there is an emotionalizing in the office to enable suggestions, differences and activations.
The feel-good factor in the office must be right
It was important that the employees feel comfortable, because the staff costs made a bigger chunk than the office rent. Nevertheless, in times of rising rents, space-saving solutions must also be offered, whether these are temporary jobs or large common work desks for several employees. "That reduces the space per employee."
( Quelle: https://immo.sn.at )