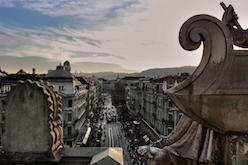 2014 seems to have been a record year for the Swiss office property market - if you consider the vacant offices.

According to office market report published by the CSL real estate on Tuesday, the availability rate of available office space is 5.6 percent below the previous peak in 2005.The reason for this, as seen by the CSL, is the slight demand and the supply growth by many new buildings and renovation projects completed. Due to the strong Swiss franc, the demand is also expected to not recover in 2015, resulting in many vacant office space this year too.

In 2014 the amount of available office space, which was available over a period of six month, increased to a total of 2,249.000 square meters in the 20 largest Swiss metropolitan areas, CSL said. A large part is to be assigned to the greater Zurich area, where over a million square meters of office space was available.

In and around Zurich the rent for one square meter of office space per year amounted to 261 francs, the equivalent of 247,38 Euro. In the center of Zurich, however, rents increased threefold: One square meter of offisce space cost 875 francs (= 829.33 Euro).
The second highest rental rates were found by this study in the center of Geneva. The rent for office space per square meter amounted to 835 Squiss francs (= 791.41 Euro) per year.

Source: APA
Picture: Bahnhofstraße Zürich (c) Zürich Tourismus