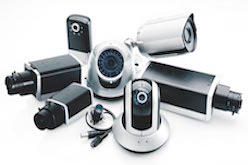 And rightly so, the installation of cameras but has many benefits. Besides the classical protective tasks such as perimeter and outdoor surveillance against vandalism, burglary and spying, surveillance systems deter potential perpetrators and thus contributes to preventive protection of persons and property. If there is stillany incident, the perpetrators can be clearly identified and convicted by image evidence. A wide range of cameras, components and accessories offers individual industry solutions for every need and every budget - from local solutions to multi-site networking.
However, the video surveillance of work and rest rooms can be legally and socially problematic. According to Austrian law, including § 78 of the Copyright Act, any person has the right of their own image and its private or intimate sphere must not be violated. Thus, for example, changing rooms or toilets may not be monitored. In workrooms video surveillance is permitted if a legitimate purpose for the video surveillance is present and beyond the legitimate interests of not violated by the record concerned, according to §§ 50a ff of the Data Protection Act. The encroachments on the fundamental right to privacy caused by video surveillance may only be made to the extent necessary and with the least intrusive means available, so that the principles of data protection legislation are observed. Recorded data must be deleted after 72 hours and the monitoring must be registered with the Data Protection Commission and requires its approval.
In addition each employee has to give his approval for data recording and evaluation, without facing any pressure.
Caution is also on, even if only partial, monitoring public space - in a recent ruling by the ECJ of 11 December 2014, the court banned the control of parts of the road. A surveillance in shared offices requires the consent of all tenants.
Link to the Austrian Data Protection Act:
https://www.ris.bka.gv.at/GeltendeFassung.wxe?Abfrage=bundesnormen&Gesetzesnummer=10001597